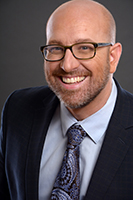 Kirk Douglas
Instructor
Voice & Piano
Kirk Douglas is an enthusiastic educator who has had the privilege of teaching private voice and piano to students of all ages. In addition to his private studio work, he is the choral director of the award winning Boulder Creek High School Choirs and Christ the Lord Lutheran Church. He earned his education degree with a vocal emphasis at Ottawa University and California State University, Northridge, where he was among the Northridge Singers—(also known as the Choir of the World, a title received in Wales.) Along with singing in numerous choirs, he also worked as a professional singer/actor throughout Arizona, California, Arkansas, and several European countries. Favorite performances include singing back-up for Barbra Streisand and Barry Manilow, and working as a section leader/featured soloist for First Congregational Church of Los Angeles. Recently Mr. Douglas was selected to receive the OM Harsell "Excellence in Teaching Music Award" through the AMEA (Arizona Music Educators Association). In addition to his teaching, Mr. Douglas has worked throughout the valley performing Oratorio, Operetta and Musical Theatre. Mr. Douglas has served on the Arizona Choral Educators board for two terms and the American Choral Directors Association of Arizona Board for one term, the active Arts Council of the North Valley Vice President, the active North Central Region Governor and actively on staff for The Arizona Ambassadors of Music Tour.
1. His musical debut was playing Santa Claus in 2nd grade.
2. He sang back up for Barbara Streisand and Barry Manilow at the Kodak Theater.
3. He traded a car in because he never wanted to change a tire on it again.