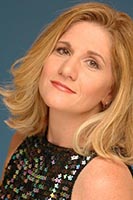 Mary Jane Mcloskey
Instructor
Voice & Piano
Mary Jane McCloskey's passion is sharing her love of music with her students! She is an accomplished teaching artist with over 30 years experience working with young singers.
She is certified by the state of Arizona to teach k-12 music and has spent time teaching in private, public and charter schools.
She earned her Bachelor's Degree from Wheaton College in Wheaton, Il and her Master's Degree in Vocal Performance from the University of Michigan, Ann Arbor. She also studied voice at the Aspen Summer Music Festival in Aspen, CO. and was a vocal fellow at The Tanglewood Center in Tanglewood, MA. She is a board member of the Valley of The Sun National Association of Teachers of Singing (NATS)
Mary Jane has performed professionally with the Arizona Opera, Phoenix Opera, Arizona Broadway Theatre and The Hale Centre Theatre. She was also the Artistic Director and founder of the Muddy River Opera Company in Illinois and the Education Director for the Arizona Opera.
Mary Jane also does private acting coaching and can give advice on commercial and theatre work in the Valley. Mary Jane has been at Kirk's since 2016 and has lived with her family for many years in Phoenix.