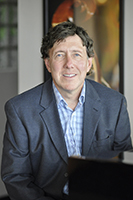 Bob Weir
Instructor: Scottsdale & Desert Ridge
Piano & Violin
Bob joins us as he begins a new phase of his career, out of New York and into the Arizona desert. Bob has performed and taught professionally in New York for over 25 years. He has accompanied numerous choruses and orchestras as well as performed as a solo pianist for many New York hotels and private clubs.
Bob and his wife have two boys in elementary school. Many of Bob's students were All-State Players in New York State Schools' Music Association - a very high honor for New Yorker musicians. He has a Master's Degree in Music from Hofstra University.
Bob plays everything from Bach to David Benoit, Billy Joel to Beethoven. He performed in the orchestra for Billy Joel's Broadway musical, "Movin Out."
Kirk's Studio for the Performing Arts