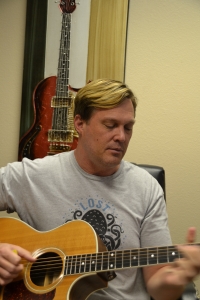 Eric Meyers
Instructor: Scottsdale & Deer Valley
Guitar and Voice
After a successful career in real estate, Eric Meyers is thrilled to devote himself full-time to his real love: music! Eric has been playing and performing since his younger years and has trained with some of the best in the business. He specializes in beginner and intermediate students for guitar, voice and songwriting. Eric has been making little rockstars out of students since 2019 at Kirk's Studio and has been a favorite from day one.
Three fun facts about Eric:
1. He's a freediver and can hold his breath for a LONG time.
2. He taught snowboarding in Colorado - accolades as the top instructor at the resort!
3. His happiness and optimism are contagious.
Kirk's Studio for the Performing Arts