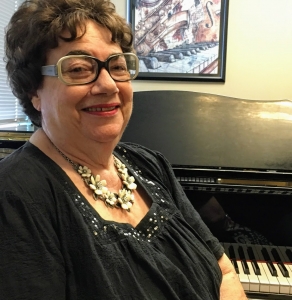 Flora Mogerman
Instructor: Scottsdale & Desert Ridge
Piano & Violin
Talk about an absolute treasure. Flora began her musical career after turning down an offer from the Juilliard School to attend Manhattan School of Music on scholarship where she completed her Master's of Music. She played for rehearsals for the original West Side Story with Leonard Bernstein and has worked with John Rutter in Cambridge, England. After relocating to AZ from NYC in the 60s, she has taught at Scottsdale Community College for 30 years, accompanied the Phoenix Boys Choir for 15 years and has won numerous Zoni awards for her work with Musical Theater here in the Valley.
She is absolutely brilliant on all sides of the piano: Classical, Jazz, Sight-reading, Improvising, you name it. She can do it. Turns out she's also an exceptional instructor. We are thrilled to be Flora's studio of choice for private instruction.
Kirk's Studio for the Performing Arts
Flora Mogerman, Piano Instructor at Kirk's Studio for the Performing Arts in Scottsdale and Desert Ridge, in concert performing Rachmaninoff.