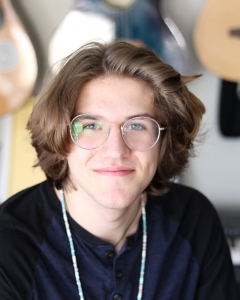 Foster Hilding
Instructor: Scottsdale & Deer Valley
Guitar, Ukulele, Bass, Mandolin
Foster Hilding is a guitarist, singer, and songwriter in the valley. He's always had a huge interest in music, even since he sang in his third grade talent show. He has been studying guitar since he was 12 at Arizona Conservatory for Arts and Academics, as well as piano since he was 14. He's also taken part in many musical theater productions at Spotlight Youth Theater and Arizona Broadway Theater.
He is a veteran of Alice Cooper's Proof is in the Pudding, and plays in his band, M.O., in the Valley. He's released music on all platforms and plans to release much more. He's performed and met many legends such as Alice Cooper, Johnny Depp, Robin Zander, and performs throughout the Phoenix city area.
He's more than excited to share his love for music with students, and teach them the impact and love that music can inspire in young people's lives. Foster started teaching at Kirk's Studio and Arizona School of Music in 2019.
Three fun facts about Foster:
1. He won't have to change his name when he becomes a celebrity. Already has a rock star name!
2. He's also an artist - draws and paints.
3. Thanks to a wonderful upbringing, Foster is well-acquainted with and loves classic rock.
Kirk's Studio for the Performing Arts