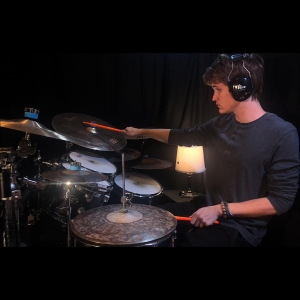 Isaac Tomlinson
Instructor: Deer Valley
Drums
Isaac began his teaching career as a teenager while playing center snare for his state champion drumline. Isaac began studying drums and percussion while in grade school and eventually won spots with DCI (Drum Corps International) on Drumset for Arizona Academy and Santa Clara Vanguard.
He has worked with drummers of all ability levels. He can work with the brand-new beginners all the way up to advanced drummers working on poly-rhythms, odd time signatures, drum set, snare work and everything in between. Isaac has a certificate from Berklee College of Music and has been teaching at Kirk's Studio since 2019.
3 Fun Facts about Isaac
1. He's worked at Pet Smart.
2. Isaac's got a great sense of humor.
3. He hopes to someday have 1M subscribers to his Youtube channel.
Kirk's Studio for the Performing Arts