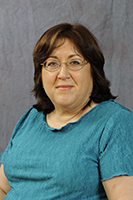 Dr. Marian Dura
Instructor:
Violin, Viola, Cello & Piano
Dr. Dura has a long career as a music educator at every level from grade school through college and graduate level courses. She is down-to-earth and loves to see her students succeed. Many of her students have continued enjoying music into adulthood and a few have gone on to professional careers as musicians.
Dr. Dura has published numerous works on pedagogy and implementing music programs in schools. With a Bachelor's degree from ASU and a Master's from UofA, Dr. Dura went on to receive her PhD in Music Education from Northwestern and has now resettled in Arizona. We are proud to have her as a part of the Kirk's Studio faculty since 2018.