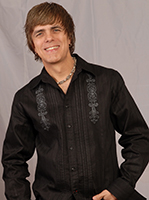 Mark Dolin
Instructor:
Guitar, Piano, Saxophone, Trumpet, Voice
Mark Dolin is a musician's musician and a fun, laid-back teacher. He has been playing and teaching a variety of instruments since the early 80's after studying performance and education at the prestigious Berklee School of Music in Boston and West Virginia Wesleyan College, holding a BA with honors in music performance.
In addition to his ability to bring the best out of students, Mark has mastered several instruments, with piano and sax as his primary focus. Mark also plays and teaches flute, clarinet, double-reeds, trumpet, trombone, guitar, steel drum and voice. Nothing will hone your skills like playing live, and Mark has been playing professionally for over 35 years.