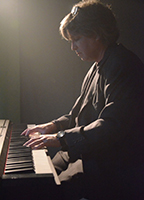 Jimmy Lee Boggs
Instructor: Scottsdale and Phoenix
Piano
Kirk's Studio for the Performing Arts
Looking for Piano Lessons in Scottsdale or Phoenix?
You can't find a better piano teacher for beginning to intermediate piano lessons in Scottsdale or Phoenix than with Jimmy! He's kind, passionate and dedicated to his students' education.
Jimmy started playing the piano at the age of 6 and by the time he was 15 was in a band and gigging around town. He has since toured with a number of bands and done lots of studio work. His professional career as a piano man spans over 25 years.
Jimmy has performed on numerous recordings and continues to play locally when he's not teaching. He absolutely loves teaching and especially enjoys working with beginner and intermediate-level students. Jimmy teaches all styles from classical to rock, blues and pop.
Jimmy Lee Boggs has been with Kirk's since 2012 and yes, Jimmy Lee Boggs is his real name. : ) Along with providing great piano lessons at Kirk's Studio, he also runs the radio station for Rhythm's House, called AZRadio.live. All local musicians, all the time! Tune in!
1. He worked as a cashier at a gas station for five years.
2. He did not marry his high school sweetheart.
3. He likes the band judas Priest.
Piano Lessons in Scottsdale or Phoenix
A short video about Jimmy in his own words.
Jimmy with Monqiue Hasbun, "Dream a Little Dream."
Jimmy Lee Boggs – Piano Lessons in Scottsdale or Phoenix