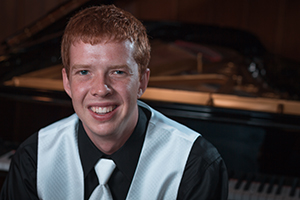 Robert Avril
Instructor:
Piano
Robert Avril has been teaching at Kirk's Studio for the Performing Arts since 2014. He received a Bachelor of Music degree, Summa Cum Laude, in Piano Performance from the Herberger Institute for Design and the Arts of Arizona State University. He was a recipient of the Arizona State University Provost Scholarship, a four-year academic scholarship award, and the Special Talent Scholarship. Robert studied piano with Dr. Baruch Meir and collaborative piano with Dr. Andrew Campbell and Professor Russell Ryan. He has studied and played piano for 20 years. He has participated in many competitions, master classes, solo performances and collaborative performances. He has also debuted several original compositions written by music colleagues. In the summer of 2014, he was selected by audition to participate in the Schlern International Music Festival and Piano Competition, located in the Italian Alps in Vols am Schlern, Italy. At the festival. Robert studied and participated in master classes with professors of international renown. He also had the opportunity to form friendships, to compete and to perform concerts with fellow musicians from all over the world. Robert found music truly is an international language!
Robert also has a great passion for teaching children of all ages. He focuses on giving students a great foundation of technique, theory and repertoire so they can progress in their piano studies and pursue their specific music interests. He likes to have fun in lessons by using games and other teaching techniques so students really enjoy what they are learning. As a student, Robert completed all 12 levels of Arizona Study Program. He received the James Anthony Level 12 Award and the Arnold Bullock Memorial Scholarship Award from Arizona Study Program. He is very knowledgeable about the program and encourages his students to participate in this comprehensive course of study. Robert's students also participate in special events at Kirk's Studio for the Performing Arts, such as Showcase Performance, Halloween Spooktacular, Belmont Village Concert, Music at the Mall Christmas Concert and spring recitals.
Kirk's Studio for the Performing Arts
1. He's never broken a bone in his body, but he's been knocked out twice. (knock on wood).
2. He used to play trumpet.
3. Been to 9 countries in Europe.