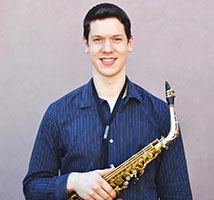 Sam Detweiler
Instructor:
Guitar, Piano & Saxophone
Sam has a Bachelor's Degree in Music Education and a Master's in Saxophone Performance from ASU where he was the saxophone teaching assistant. He has taken pedagogy coursework for all wind instruments. Sam also holds a K-12 teaching certificate as a music teacher.
In addition to his saxophone expertise, Sam also teaches guitar and piano. Sam is truly a teacher that everyone is looking for. He's young and very personable with the students. He knows how to motivate the students and get great results. He and his wife Amy live in Tempe and Sam has been with Kirk's since 2014.
Kirk's Studio for the Performing Arts
1. Used to be a lifeguard on a lake.
2. Grew up in NY, lived in AZ for four years.
3. Loves board games.