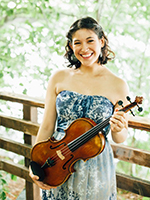 Sarah Evins
Instructor
Piano, Violin, Viola, Cello
Sarah Rachel Evins went from banging pots as a baby to playing in Carnegie Hall and performing with Grammy Award winners
Sarah began music lessons at age 5, excelled at the Las Vegas Academy for the Performing Arts as valedictorian and concerto competition winner, and chose to specialize in viola performance in college.
Sarah studied with viola professors Nicholas Cords of Brooklyn Rider and Larry Dutton of the Emerson String Quartet (nine-time Grammy Award winners) at Stony Brook University. There she earned her BA in viola performance and also studied musicology at the graduate level. She received the prestigious Undergraduate Quartet and Michael Bane awards. She also performed at the Emerson Chamber Music Festival four years in a row, her final performance with Emerson String Quartet violinist Phil Setzer in December 2014. From fall 2014 to spring 2015, she studied privately in Karen Ritscher's viola studio in Manhattan, New York.
Currently, she is earning her masters degree at ASU's Herberger Institute for the Arts. She studies under Professor Nancy Buck and served as her studio teaching assistant. She has been awarded special talent awards as well as the prestigious Richard Burns viola scholarship.
Noted summer festivals she has attended include: Boston University's Tanglewood Institute (2009, on scholarship); the Beethoven Institute in Manhattan (2011, partial scholarship); Round Top International Music Festival (2012-2014, (full fellowship); and Ameropa in Prague (2015). In 2016, Sarah was invited to be a guest artist at the Saarburg Music Festival in the beautiful wine country of Rhineland Germany. During these festivals she has played alongside noted professionals Hakan Rosengren, Eteri Andjaparidze, David Erhlich, William Terwilliger, Katherine McLin, Susan Lamb Cook, and Andrew Cooperstock.
Sarah is most passionate about sharing music with others. She began teaching music in high school as a volunteer teaching students keyboard at the Nevada Blind Children's Foundation. Since getting her degree, she has had years of experience teaching violin, viola, cello, and piano. From the very young, to college students, to adults—Sarah has taught a huge range of ages and experience level. She is eager to tailor her style to suit each student's needs and truly strives to encourage her students to love music as much as she does.