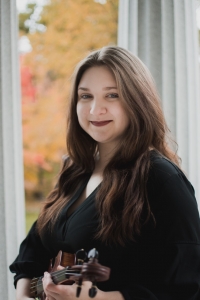 Sonja Prychitko
Instructor: Scottsdale & Phoenix
Violin, Viola, Cello and Piano
Kirk's Studio for the Performing Arts
If you're interested in violin lessons in Scottsdale, Sonja is ready to teach you! Sonja Prychitko is a violinist from Marquette, Michigan. She moved to Phoenix in August 2019 to pursue a Master's degree in Violin Performance Pedagogy at Arizona State University. Sonja currently studies violin under Dr. Danwen Jiang and is a member of the ASU Symphony Orchestra. She joined the faculty of Kirk's Studio and Arizona School of Music in September 2019.
Sonja has a wide variety of interests and experiences in performing, teaching, directing, and academia. Sonja was an active violinist in the Marquette Symphony Orchestra (2008-2019). During this time, she also maintained a successful private studio of violin and viola students.
She received two degrees from Northern Michigan University: a Bachelor of Science and Master of Science in psychology, specializing in music cognition and perception. As an undergraduate, Sonja was the concertmaster of the NMU Orchestra and studied violin under Dr. Barbara Rhyneer.
In 2010, Sonja established the Eclettico Chamber Orchestra where she led the second violins. She created several arrangements of rock, pop, and oldies music for the unique 12-person chamber group. Sonja was a co-director and manager of the Upper Peninsula Youth Orchestra (2013-2017) and a first violinist in the Keweenaw Symphony Orchestra at Michigan Technological University (2014-2019).
Sonja believes that learning an instrument significantly enhances brain development, one's understanding of other cultures, and the enjoyment one can find in life. Music is a means of communication and connection, expression and passion, that anyone can find at any point in their lives. (Seriously, she's unbelievable!)
Three fun facts about Sonja:
1. She started an all-strings group that plays rock and pop.
2. She also has a degree in Psychology. So if you need some very affordable counseling…
3. Her parents are musicians and teachers – looks like she got the best of both worlds!
Sonja Prychitko | Violin Lessons in Scottsdale
Check out this video of Eccletico – the group Sonja created and directed. Here they are doing some Led Zeppelin. Sonja plays lead violin and did the arrangement for the group – super cool!
Here are a few more videos of Sonja in action: