Upcoming Events
&

Studio Calendar
Upcoming Events at Kirk's Studio
To stay up to date with upcoming events at Kirk's Studio, see right here on the website, or check out our Facebook page for links to signups for performances and events!
OPEN MIC NIGHTS –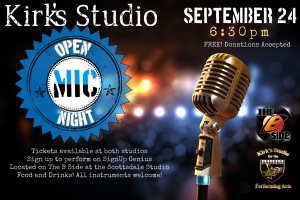 September 24th and future dates to be determined. Soloists and bands perform at our intimate venue The B Side located at the Scottsdale Studio. Sign up at each studio location for the next Open Mic Night!
.
.
ORGAN STOP PIZZA – Saturday, September 24th at 12pm. Join our studio party and kick off the new school year! Awesome entertainment by a master organist who plays everything from Mission Impossible to Disney, to Star Wars!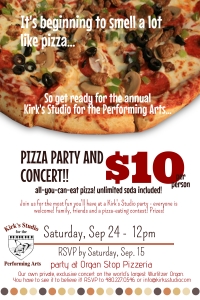 For only $10.00 admission, you'll get All-You-Can-Eat Pizza and soda! This year – four pizzas to choose from! Cheese, Meat-lovers, Veggie, and Hawaiian!
Located at 1149 E. Southern Ave, Mesa
Click here for link to RSVP on Facebook
.
.
FALL BREAK – October 9th-16th CLOSED for Fall Break at both studios.
.
.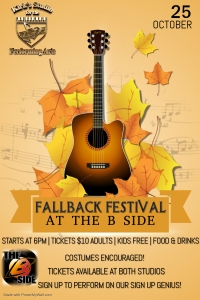 Recital Spooktacular Saturday, Oct 29. 
 – Saturday Oct 29th at 6:00pm at Scottsdale Studio –  Get ready for a spooky Halloween-themed recital! Come dressed in your costume and perform in front of an audience of ghosts and ghouls! Sign up via Signup Genius – email us for the link, limited spots available. Throwback songs encouraged! CLICK HERE FOR TICKETS
.
.
.
.
.
………………………………………………………………………….
NURSING HOME FALL PERFORMANCE – Saturday, November 12th at Maravilla Scottsdale in Scottsdale. 12pm-2pm. Open to all students – just let us know which hour you'd like to play. Limited spots are available per hour! Let us know you're going on Facebook – Click here for the Facebook link and sign up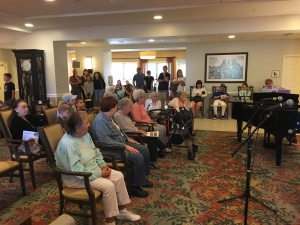 ………………………………………………………………………….
.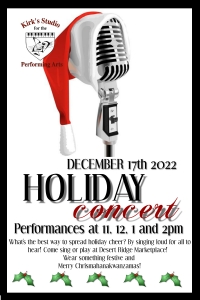 DESERT RIDGE MARKETPLACE HOLIDAY PERFORMANCE – Saturday, December 17th from 11am-3pm – Would you like to play for thousands of frantic shoppers just a few days before Christmas? Of course, you would! First, sign up for a time using the Signup Genius: 11, 12, 1 or 2pm. Limited spots are available per hour! Next, pick a piece for the season. Memorize it, perfect it, and make it sparkle. Wear something festive, and put on an amazing show!
Click here for Facebook link and sign up
Check out a sample of last year's performance!
………………………………………………………………………….
.
WINTER BREAK – December 18th-January 1st CLOSED for Winter Break at both studios.
………………………………………………………………………….
Upcoming Events at Kirk's Studio in 2023
SHOWCASE JUNIOR REHEARSALS – Stay tuned for details.
SHOWCASE JUNIOR PERFORMANCE – TBD
SHOWCASE REHEARSALS – Rehearsals for Showcase Senior will be held:
Dec 10, Jan 7, 14, 21. There is a final run-through of every song on Friday, January 27th. Rehearsals are on Saturdays – there's a time-slot to fit everyone's schedule! Pick the song that works with your schedule!
SHOWCASE PERFORMANCE –
January 28th at 6pm at Mesa Arts Center.
Hundreds of students ages 10 and up will take the stage and perform classics and today's hits in front of at least 1000 people in the audience. Great entertainment for the whole family. What will the theme be this year? Stay tuned!
SPRING BREAK – 
March 13-19 Both locations closed.
*Spring Break Camps available these weeks!
SPRING RECITALS – At the end of every school year, every teacher will host their own spring recital on stage at The B Side at our Scottsdale Studio. Times and dates are to be determined in May, & June.
The Studio is closed for four weeks out of the year: Fall Break, Spring Break, and Winter Break. We are also closed for the 4th of July and Thanksgiving. Open all summer and every other holiday.