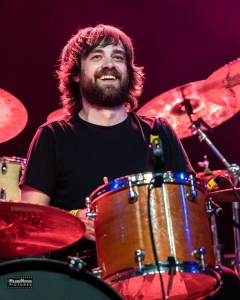 Maxwell Young
Instructor: Scottsdale and Phoenix
Drums, Guitar & Bass
Kirk's Studio for the Performing Arts
Looking for drum lessons in Scottsdale? The staff at Kirk's Studio for the Performing Arts are second-to-none and the studio experience provides students with multiple performance opportunities throughout the year, whether you're just starting out or looking to take your music to the next level.
Max has been drumming professionally since high school and started teaching at Kirk's shortly after graduating from Desert Mountain. Max's drumming can be heard on multiple albums. He's proficient in a wide variety of styles as well as marching percussion.
In addition to drums and percussion, Max also teaches guitar and bass and teaches within the University of Rock program at Kirk's Studio and Arizona School of Music.
Max is a super charismatic instructor and has been a part of the Kirk's Studio family since 2007.
Max in action with the Kirk's Studio faculty doing Angry Young Man by Billy Joel. Yes, that's Max on the drums. Want to up your game as a drummer? Take drums lessons in Scottsdale with Max.
Click HERE for Part II of the video.
Max Young | Drum Lessons in Scottsdale
What people are saying…⭐️⭐️⭐️⭐️⭐️
Max has been an amazing instructor! I've learned more about playing drums with Max in 5 years than I ever thought possible. Pretty sure there's no better place for drum lessons in Scottsdale than at Kirk's.
Thank you so much to Max and the staff at Kirk's Studio! I'm looking forward to pursuing percussion at Berklee this next year!
–   Kevin H., percussion student
I am glad I found your studio, totally dedicated with awesome teachers. One of my biggest worries, when we moved to this country, was my boys' continuation with music.
Looking forward to a long association.
Warm regards – Tanushri P. – mother of two boys taking guitar, drums, Univ. of Rock
Thanks for believing enough in Nick to take part in the house band. Both you and Pam made Nick's night with your heart-felt "thank you". He learned a valuable lesson tonight. He will make sure that he listens and knows ALL the music being performed in a show)(not just those assigned to him just in case he ever needs to step in.)
I know that you are all set for the big Showcase, but having Nick know all the songs only helps him in the future.  He will continue to practice and hopefully you'll think of him for any future opportunities.
– Monica C. – Nick's mom. Nick has gone on to play with many bands in addition to his primary group 
Pasadena
. As a high-schooler, he has established himself as an on-call drummer.