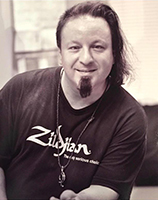 Frank Morrison
Instructor: Scottsdale
Percussion
Kirk's Studio for the Performing Arts
Frank Morrison | Drum Teacher in Scottsdale
You can't always find a drum teacher in Scottsdale that is as cool and caring as Frank! He loves teaching and encouraging his students to be their best.
Frank comes from an illustrious pedigree of percussionists. His instructors include: John Robinson, most recorded drummer in history, who also toured with Michael Jackson. He also studied with Joe Morris, drummer for Whitney Houston. Frank has a four-year degree in music studies and in the early 2000s studied at the Percussion Institute of Technology in LA. He knows what awesome drum lessons look like!
Frank has over 30 years of experience on drum set. In addition, he's recorded with major label artists and has been teaching since early 2000.
Developing the drummers of tomorrow today…" Frank has been a drum teacher in Scottsdale and at Kirk's since 2014. He loves making drum lessons fun and helping his students develop the skills needed to perform with a band.
1. He loves cats
2. He played semi-pro baseball.
3. He was born on Elvis' birthday.
Frank Morrison | Drum Teacher in Scottsdale