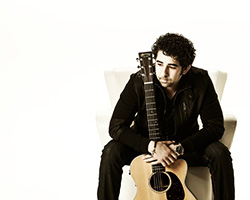 Eric Hasbun
Instructor:
Guitar & Voice
Erick came to Kirk's Studio in 2008 as a young musician, already performing professionally. After a couple years of voice lessons at Kirk's, he was ready to take on the position of instructor.
Erick entertains regularly around the state and can frequently be found at the Westin Kierland resort. He does recording projects on the side and has released his own album. Erick is a very popular instructor and we couldn't be happier to have him as a part of our team.
Kirk's Studio for the Performing Arts
1. Has 1 brother and 1 sister.
2. Speaks spanish.
3. Has performed in at least 7 Showcases at Kirk's.