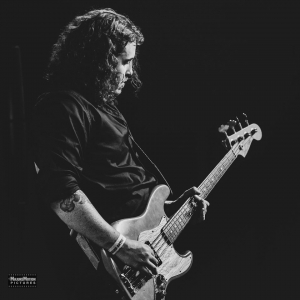 Julian Weinstein
Instructor: Scottsdale & Deer Valley
Guitar and Bass
Kirk's Studio for the Performing Arts
If you need a guitar and bass instructor in Scottsdale or Phoenix, Julian is your rockstar teacher!! He's been playing music nearly his entire life. Starting with piano at the age of 6, and guitar at the age of 8, Julian developed a passion for music early on.
He started playing bass in first band his freshman year of high school, where he played in a Heavy Metal band called Steelclad Fortress. Since then, Julian has found himself in a lot of bands primarily playing bass. For about 6 years, Julian played bass in a reggae band called The Zoo that opened up for many national reggae acts that came through Arizona.
When he was 18, Julian played in front of about 5,000 people at a music festival in China! Julian graduated college with a degree in History and Education, which he used to teach Social Studies at Imagine Desert West for 2 years. Currently, Julian is a full-time musician and plays bass in multiple bands. His primary band is called SugarWater, whose lead singer, Wade Cota, got top 4 on American Idol in 2019. Julian can bring all this and more as your guitar and bass instructor. Call today!
Three fun facts about Julian:
1. He has appeared on the Independent Artist Spotlight Show on AZRadio.Live.
2. He has a rescue dog.
3. He's a super entertaining performer. (just see the pics)
Julian Weinstein – Guitar and Bass Instructor in Scottsdale and Phoenix
You really can't find a more entertaining guitar player!
Kirk's Studio Video – A short video about us and what we do!