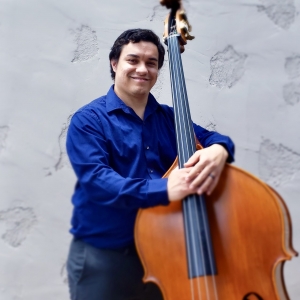 John Martinez
Guitar, Bass, Strings, Piano Instructor: Scottsdale and Desert Ridge
Guitar, Piano, Strings, Bass
Kirk's Studio for the Performing Arts
GUITAR, PIANO, BASS & STRINGS TEACHER IN SCOTTSDALE
Searching for an amazing guitar teacher in Scottsdale? Or how about a violin, cello or bass instructor in Phoenix? Look no further. John Martinez does all that and more. John specializes in guitar, bass and strings. Add to that his proficiency on piano and you've got a one-stop shop for music lessons in Scottsdale and Phoenix.
John was introduced to playing instruments at a young age. He began learning guitar at the age of 8 and eventually switched to the bass guitar.  Shortly thereafter he added ukulele and cello amongst other instruments. Eventually, John tackled the entire string family: violin, viola, cello and bass. John has performed with orchestras in Brazil and in Arizona. He is currently pursuing his Bachelor's in Theory and Composition at Arizona State University. His dream is to compose music for film and video games.
John enjoys working with students of all ages and ability levels. From brand-new, young beginners, to seasoned veterans, he's inspiring and fun to work with. Again, if you're looking for private or group guitar lessons in Scottsdale, Fountain Hills, Phoenix, Desert Ridge or Cave Creek, look no further. 🙂
For our violin, viola, cello and bass students, John directs our Strings Rock! program. Students in Strings Rock! learn rock and popular songs as a group and perform regularly. It's the coolest strings group ever and takes "orchestra" to a whole new level!
Three Fun Facts About John
He spent much of his youth in Brazil – he's now trilingual: English, Spanish and Portuguese!
John married his high school sweetheart and they have one child.
John loves composing music for film and video games.
John Martinez – Guitar, Strings, Bass and Piano Instructor Scottsdale | Phoenix
John as a youngster with a very hip friend. 😉 seriously – you have to watch this. His buddy is absolutely hilarious.