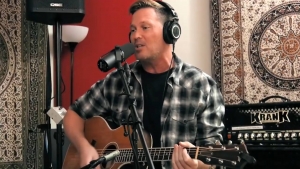 Eric Meyers
Instructor: Scottsdale & Phoenix
Guitar and Voice
Kirk's Studio for the Performing Arts
It's hard to find a guitar and voice teacher in Scottsdale or Phoenix that is as popular as Eric. His love of music is contagious and it comes through in his lessons. You will leave your lessons happier and excited to go home and practice!
After a successful career in real estate, Eric Meyers is thrilled to devote himself full-time to his real love: music! Eric has been playing and performing since his younger years and has trained with some of the best in the business. He is the lead singer for the band, The Rev. Check them out on Youtube! He is the lead singer, songwriter and guitarist for the band.
He specializes in teaching beginner and intermediate students for guitar, voice and songwriting lessons. Eric has been making little rock stars out of students since 2019 at Kirk's Studio and has been a favorite from day one. You'd be hard pressed to find a better guitar teacher in Scottsdale than Eric.
Three fun facts about Eric:
1. He's a free diver and can hold his breath for a LONG time.
2. He taught snowboarding in Colorado – accolades as the top instructor at the resort!
3. His happiness and optimism are contagious. He loves teaching, and it's obvious!
See more GUITAR TEACHERS HERE
Check out more VOICE TEACHERS HERE
Click for more PIANO TEACHERS HERE
Eric Meyers | Guitar and Voice Teacher in Scottsdale and Phoenix
Here's a short video about Eric and his teaching style.
Eric's band, The Rev, performing an original, "I girl like that."
Another original by The Rev, "Sea Level."