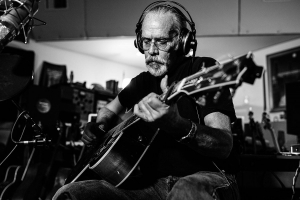 Billy Cioffi
Instructor: Guitar lessons in Scottsdale
Guitar, Bass, Ukulele, Banjo, Mandolin, & Songwriting
Kirk's Studio for the Performing Arts
Have you ever wanted to take guitar lessons in Scottsdale from a rock legend? Maybe rock legend is a little much, but Billy is a total rockstar teacher!
Billy Cioffi, a 35-year veteran of the grueling and magnificent Los Angeles music scene, was born in Albany, NY. At age 16 he was signed with his band, The Grey Things, to Laurie Records and toured as the opening act of musical icons (The Allman Brothers, The Velvet Underground, The Byrds, the Lovin Spoonful, and The Rascals).
Billy has written for Guitar Player magazine,  and served as the musical director of the Universal Ampitheater in LA. He's played alongside Chuck Berry and Bo Diddley on tour. He currently gigs just about every weekend, so if you're in the mood for some good food and great music, search him out.  Aside from teaching at the studio, Billy also teaches English at Scottsdale Community College. He is a man of many talents!
Billy joined the staff at Kirk's Studio in 2007. He likes to say he'll teach "anything with strings". In addition to guitar, Billy also teaches ukulele, banjo, mandolin, dobro and bass. He and his wife have called Scottsdale home since 2001 and have loved settling here.
The teaching experience has changed his life for good as he has had the wonderful opportunity of seeing many students succeed in music and in the music industry.
Guitar Lessons in Scottsdale
Learn a little bit about Billy and his teaching style.
Live @ Bob's Featuring Billy Cioffi singing an original, "I Don't Know You Anymore."
Songwriter's Showcase featuring Jenny Jarnigan and Billy Cioffi on guitar.