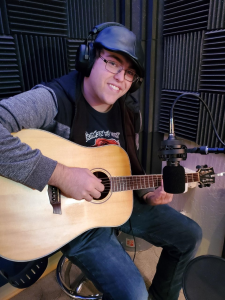 Conor Lafferty
Instructor: Desert Ridge
Guitar, Ukulele, Bass
Kirk's Studio for the Performing Arts
If you're looking for a guitar teacher in Desert Ridge, who knows the music scene and what it takes to be part of a band, Conor is your guy!
Conor Lafferty was drawn to guitar since the young age of 10. His ventures into music eventually led him to begin taking lessons during his sophomore year of high school at Kirk's Studio. Since then, his skills have grown exponentially, as he began to absorb as much music as possible. His skills have grown so much that we made him part of the faculty in early 2018. Conor has shown exceptional talent in genres ranging from classic and hard rock, to blues and metal. He loves to share his passion with up-and-coming, and young guitarists. He's a great guitar teacher for the beginning/intermediate student.
Conor is currently taking courses at Paradise Valley Community College that are geared toward his passion of music. He also loves songwriting and performing around the valley with his band, Pushing Pluto. If you have a minute, or two, ask him about it.
Conor Lafferty | Guitar Teacher in Desert Ridge
Not only is Conor a rockstar teacher, if needed he'll go the extra mile and sing for his students! Conor and Leandro doing Interstate Love Song by Stone Temple Pilots.