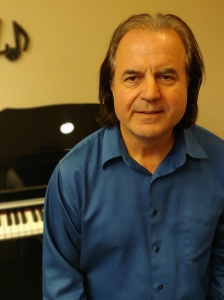 Michael Lamb
Instructor: Desert Ridge
Piano, Composition, Theory, Improvisation
Michael is a renowned musician, performer, and educator who has taught at Kirk's Studio and Arizona School of Music since 2018. He began playing piano when he was 5, and began to master the instrument thanks to some hard-core Bulgarian instructors. Eventually, Michael received his Bachelor's from Berklee College of Music and then did his Master's Degree at Manhattan School of Music.
For many years, Michael played swanky hotels and resorts in Beverly Hills and Hollywood. He finally made his way East and landed in Phoenix where he's been a tremendous asset at Kirk's Studio for the Performing Arts and Arizona School of Music.
Michael loves working with a variety of students. He's a master of classical, jazz, rock and pop. You name it, he plays it and can teach YOU how to play what you want to play.
3 Fun Facts about Michael:
1. He's from Bulgaria. Amazingly, his English is great. 🙂
2. He has composed and written arrangements for some very illustrious dignitaries.
3. His favorite baked goods are croissants from Trader Joe's.
Kirk's Studio for the Performing Arts