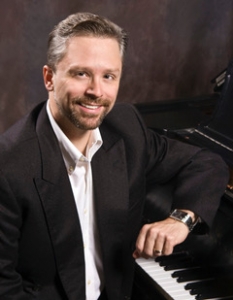 David Zych
Instructor: Scottsdale and Phoenix
Piano, Theory, Improvisation
Kirk's Studio for the Performing Arts
You can't really find a better piano teacher in Phoenix than David.  If you can get on his schedule, do it! Here's a little bit about him.
David has been in Arizona since 2013 and he is very excited to be a part of Kirk's Studio! David started playing piano at 4 and has been playing ever since! He grew up in the Chicagoland area and attended DePaul University majoring in piano performance with Mary Sauer, principal keyboardist of the Chicago Symphony, and studying jazz with Alan Swain. Immediately after graduation David was chosen as apprentice coach/conductor at the Zürich Opera Studio Young Artist program in Switzerland. He spent seven years overseas and played concerts in numerous countries throughout Europe.
While overseas he served as Liturgical Music Director at the US Air Force Base in Bitburg, Germany, a true honor. After returning to the US, he was part of the New York music scene, eventually completing his Masters in Orchestral Conducting at CUNY. Mr. Zych (pronounced "Zitch") loves being a piano teacher in Phoenix,  He's able to teach students of all abilities and styles.  In addition, he accompanies high school choirs and vocalists around the country, and is currently Music Director at All Saints of the Desert Episcopal Church.
3 Fun Facts about David:
1. He speaks fluent german!
2. He loves tech!!
3. He is a devoted Star Wars fan!!!
Music Lessons
If you're interested in knowing a little about what we do, watch this video!