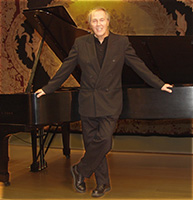 Peter Vamos
Instructor: Scottsdale
Piano
Kirk's Studio for the Performing Arts
If you're looking for the best piano teacher in Scottsdale, you're looking for Peter! He is dedicated to his students, and is 100% committed to their progress,  helping them develop their musical abilities and achieving their goals.
Peter grew up in Budapest Hungary and has been playing piano since the age of four. (Both his parents are musicians.) He went on to study classical music at the Franz Liszt Music Academy in Budapest – the most prestigious music university in Hungary. Here, he earned his first Masters Degree.
After he escaped Hungary, he came to New York and attended the Juilliard School of Music, on a full scholarship. He graduated with his second masters, a Masters in concert piano. While in New York, he became a restauranteur and is quite the chef. Consequently, he set music aside for several years. (If you have time, watch his interview from Live@5. His story is incredible!!)
Currently, Peter resides in Scottsdale and couldn't be happier. Besides teaching at Kirk's Studio, he has released numerous albums of original music. He is a prolific composer, and currently has numerous projects under development. One project is a music video of his latest single, Eclipse My Love.
And that's not all folks, he wrote an original soundtrack for an independent documentary movie, soon to be released. To up his cool level, he licenses video game music.
In short, if you're able to get on Peter's schedule, you're quite lucky! He only teaches a couple of days at the Scottsdale studio, so if you want Peter to be your piano teacher, call today!!
Peter Vamos – Piano Teacher in Scottsdale
Original song by Peter, "Mes Amour Attend Pour Vous."
Peter playing Elton John's red piano, performing "House of the rising sun."
Live@5 Interview with Peter Vamos (Quarantine Edition)