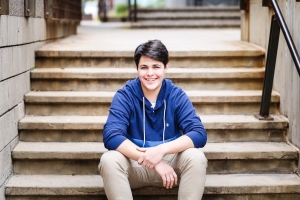 Luke Taylor
Instructor: Desert Ridge
Piano, Cello, Theory, Improvisation
Kirk's Studio for the Performing Arts
Piano teachers in Phoenix don't come with more lifelong experience than Luke!  He's actually one of the founding members of Kirk's Studio, starting when he was just 8 months old.  He began playing the piano a few years later. While still in grade school he took up the cello. He has performed everywhere from nursing homes to arenas and America's Got Talent.
As an instructor, Luke is a super popular piano teacher with the younger beginners. His enthusiasm is contagious and he consistently finds ways to motivate each student to achieve their very best. He is one of the best piano teachers we have! (We may be a little biased, but take piano lessons with him, and you'll see we're not exaggerating!)
Luke studied at BYUI and anticipates going back in the fall. He hopes to study in the medical field, and would love to work a cure for cancer. He loves to hang out with his friends and has even been known to jam with them late at night at the studio.
 Fun Facts about Luke
1. He's been to Antartica and the southern most city in South America.
2. Luke has done work on this website. (But not this page.) He also works the desk at Scottsdale.
3. He co-founded the rugby club at Pinnacle High School. And graduated a year early.
Luke Taylor | Piano Teacher in Phoenix
Kirk's Studio Promo Video