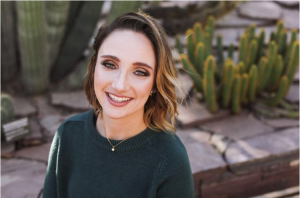 Natalie Gallatin
Instructor: Scottsdale and Phoenix
Saxophone, Clarinet, Flute & Piano
Kirk's Studio for the Performing Arts
Natalie Gallatin | Saxophone Lessons in Scottsdale
If you're searching for saxophone lessons in Scottsdale, you've come to the right place. It can be frustrating searching for the right mix of foundational teaching from experts, and someone who will keep it fun and engaging. However, we've got the right formula. We're excited to introduce Natalie.
Natalie Gallatin graduated from ASU with a double major in Music Education and Jazz Performance in Saxophone in 2018 and holds a K-12 teaching certificate. While at ASU, Natalie studied with Michael Kocour, Jeff Libman, and Bryon Ruth in the jazz department. She recently finished up working for Carnival Cruise Lines as a saxophonist.
Originally, Natalie started playing classical flute and then transitioned to saxophone where she fell in love with jazz music. Growing up, Natalie played with artists such as Seamus Blake, Michael Abene, Lee Konitz, and Joel Frahm all over the Valley.
Natalie will finish her Master's in Jazz Performance in 2022. She is excited to have settled in Phoenix. Ms. Gallatin is trained in both classical and jazz styles and has been teaching private lessons since 2015 to all age groups and experience levels.
In addition to her saxophone expertise, Natalie also teaches clarinet, flute and piano. She has been teaching at Kirk's Studio since 2020. So, if you're interested in saxophone lessons in Scottsdale, call us today to set up your lessons with Natalie.
1. Her first pet was a guinea pig named Snow White.
2. Her first car was a retired cop car.
3. Natalie performed at Symphony Hall when she was a teenager!
Natalie Gallatin | Saxophone Lessons in Scottsdale