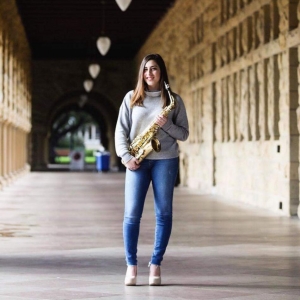 Siobhan Plouffe
Instructor: Scottsdale and Phoenix
Saxophone, Clarinet, Flute & Piano
Kirk's Studio for the Performing Arts
Siobhan Plouffe | Saxophone Lessons in Scottsdale
If you're searching for saxophone lessons in Scottsdale, you've come to the right place. It can be frustrating searching for the right mix of foundational teaching from experts, and someone who will keep it fun and engaging. However, we've got the right formula. We're excited to introduce Siobhan.
Siobhan
 Plouffe is a saxophonist from Rochester, NY who is passionate about sharing her love for classical saxophone with wider audiences. 
Siobhan
 is a Master's student studying Saxophone Performance at ASU's Herberger Institute of Design and the Arts under Dr. Christopher Creviston. In December of 2020 she graduated with degrees in Saxophone Performance from the Eastman School of Music where she studied under Chien-Kwan Lin, and Audio and Music Engineering from the University of Rochester.
Moreover, she was also lucky enough to study extensively with SSG Doug O'Connor of the U.S Army Band and Vincent David of the Royal Conservatory of Brussels during her time at Eastman. At Eastman,
Siobhan
 was a member of the Eastman Saxophone Project (ESP) and the world renowned Eastman Wind Ensemble.
Looking for "saxophone lessons near me"?
As a soloist, 
Siobhan
 was the recent winner of the 2020 Empire State Collegiate Solo Competition, and was given honorable mention in 2019. She has had the opportunity to take lessons from many saxophone pedagogues such as Dr. Nathan Nabb, Dr. John Sampen, Dr. Nicki Roman, Carrie Koffman and Dr. Timothy McAllister. 
Siobhan
 has also studied internationally with saxophonist and conductor, Lars Mlekusch.
In addition to her saxophone expertise, Siobhan also teaches clarinet, flute and piano. She has been teaching at Kirk's Studio since 2021. So, if you're interested in saxophone lessons in Scottsdale, call us today to set up your lessons with Siobhan.
1. She has degrees in saxophone AND audio and music engineering!
2. She has a black cat.
Siobhan Plouffe | Saxophone Lessons in Scottsdale