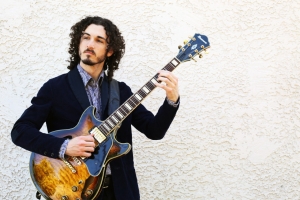 Joe Allie
Guitar Instructor: Scottsdale and Desert Ridge
Guitar, Piano, Drums, Bass
Kirk's Studio for the Performing Arts
GUITAR, PIANO, BASS & DRUM TEACHER IN SCOTTSDALE
Are you searching for the perfect Scottsdale guitar teacher? Joe Allie does that and more. Joe specializes in guitar, bass and drums. Add to that his proficiency on piano and vocals and you've got a one-stop shop for music lessons in Scottsdale and Phoenix.
Joe grew up here in the Valley and earned his Bachelor's Degree in Jazz Performance at ASU. He then taught for a large music store in Mesa as well as School of Rock. In 2020, in the middle of the pandemic, Joe found Kirk's Studio for the Performing Arts and has been an amazing addition to our team of musical ninjas.
Joe enjoys working with students of all ages and ability levels. From brand-new, young beginners, to seasoned veterans, he's inspiring and fun to work with. Again, if you're looking for amazing guitar lessons in Scottsdale, Fountain Hills, Phoenix, Desert Ridge or Cave Creek, look no further. 🙂
In addition to private lessons, Joe also works with our University of Rock program. Interested in playing with a band? Our program is awesome! Students get to actually choose their own songs, learn covers, play gigs, write originals and record in the recording studio.
Three Fun Facts About Joe
He's a hard-core rocker that can also rock out to jazz standards.
Paisley is his favorite shirt pattern.
Joe likes to wear a velvet suit coat for concerts. Stylin'!
Joe Allie – Scottsdale Guitar Teacher
Here's Joe in action at The Nash, the top jazz joint in AZ.