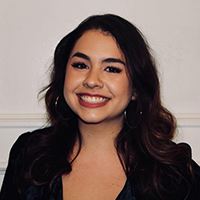 Ryan McGuire
Instructor: Scottsdale
Strings and Piano
Kirk's Studio for the Performing Arts
It's not just Ryan's smile that is contagious, it's also her love of music. She is an excellent strings teacher and her students love learning from her. Here's a little about her.
Ryan McGuire is a native of Dallas, Texas, and currently attends Arizona State University (ASU). She has performed with orchestras and chamber ensembles at the Meyerson Symphony Center, Eisemann Center, Caruth Auditorium (SMU), The Grady Gammage Memorial Auditorium (ASU), and many smaller venues in North Texas. In 2011 her string octet was invited to open for Cyndi Lauper at a GALA fundraiser benefiting Children's Medical Center of Dallas. She is currently a member of the Arizona State University Symphony Orchestra and performs regularly at Gammage.
Ryan began violin lessons at the age of four with Irene Mitchell and continued with Nicolette Solomon-van Wyk at The Suzuki Music Institute of Dallas (SMID) where she studied violin and music theory as well as performing in various ensembles. Both Ms. Mitchell and Ms. Solomon-van Wyk are former students of Dr. Shinichi Suzuki.
Upon finishing her studies at the Suzuki Institute of Dallas she completed her Suzuki teacher training at DFW WOW with Charles Krigbaum (Every Child Can © and Suzuki Units 1-4). She will continue her Suzuki training in upcoming years.
Ryan and her colleague Abigail Jorden founded the Rose Suzuki Strings Camp in Tyler, Texas in the summer of 2017 and will continue to offer classes annually.
Ryan joined the faculty at Kirk's Studio in 2017.
3 Fun Facts about Ryan:
1. She has a degree in Psychology.
2. She's quite vivacious and full of life.
3. She's been playing violin since she was four!