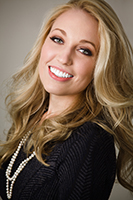 Ashton Bates
Instructor: Scottsdale and Phoenix
Piano & Voice
Kirk's Studio for the Performing Arts
Interested in vocal lessons in Scottsdale? The staff at Kirk's Studio provides students with personalized voice lessons geared to what each student wants to study, along with the fundamentals. What this means is we teach proper techniques: breathing, support, ear training, theory and more. But we don't stop there. We believe every student should have a say in their voice lessons, and what style, genre, and path they want their musical journey to take.
Ashton began studying music at the age of 14 and obtained her Bachelor of Music in Vocal Performance from Arizona State University. Ashton has placed at NATS (National Association of Teachers of Singing), has performed for and helped host the Arizona High School Regional Choir Competition, and has extensive performing experience through Arizona State University.
She has experience teaching classical music and musical theater. She absolutely loves the thrill of seeing students progress and reach levels they never thought possible. Ashton has been a part of the Kirk's Studio faculty since 2018. (And no, she doesn't just teach classical singing.) Voice and piano teachers don't come any better than Ashton.
Ashton Bates | Vocal Lessons in Scottsdale
Check out an incredible vocal performance by some of the voice students at Kirk's Studio from 2015. Say Something by A Great Big World…and while we're saying something, maybe we should have tuned that one violin. 🙂  Ok, also, the video is just by someone in the audience, so it's not perfect, but it's still good. Just watch it!
Ashton Bates | Voice Lessons in Scottsdale