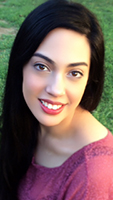 Gabi Cavalcanti
Instructor: Desert Ridge and Scottsdale
Voice & Piano
Kirk's Studio for the Performing Arts
If you're looking for voice and piano lessons in Scottsdale, Gabi might be the perfect teacher for you.
Gabriella began studying music at the age of 9. A native of Tucson, Arizona, she moved to Tempe on a full scholarship to The Herberger Institute for Design and the Arts at Arizona State University. She won numerous competitions including 1st place at NATS (National Association of Teachers of Singing) for three consecutive years. Gabi took 2nd place at the Cal-Western division which included the states of Arizona, California, Hawaii, Nevada, and Utah. She has experience teaching opera, musical theater, pop, and mariachi.
Gabi has been teaching voice and piano at Kirk's Studio since 2014. Her students love working with her and she is quite the popular teacher at the studio. She believes students should have a well-rounded education, including fundamental singing techniques even while singing the latest Taylor Swift song. And the fact that she can teach how to sing mariachi probably makes her one of the coolest voice and piano teachers in Scottsdale!
Gabi Cavalcanti | Voice and Piano Teacher in Scottsdale
A short video about Gabi and her teaching style. (Ok, side note here. The music in the background for this video is Gabi playing the piano. Yes, she teaches piano also. Anyway, the music sounds rather ominous, like black and white movie villain ominous. Don't worry though, Gabi is quite the happy teacher and loves teaching.)
Voice Lessons in Scottsdale
A few of our voice students performing.