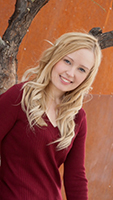 Kay Hinkle
Instructor
Piano, Voice, Strings, Winds
Kay began her musical journey at a young age when she began learning the violin at age 6. Born and raised in England, she went on to lead her county's youth orchestra on tour in European Countries such as Spain, Germany, Austria and Hungary. A first study violinist and string player she studied for her Bachelors Degree as a music major at Huddersfield University, England and graduated in 2009 with honors. Kay then turned her talents to teaching when she completed a Post Graduate teaching degree at the Royal Northern College of Music, England in 2010 and began teaching at a high school as a music specialist.
Kay has worked with pupils ranging from age 11 to 18 teaching theory based and practical music skills in a range of genres. She then decided to focus specifically on instrumental teaching and taught violin, viola cello, double bass, voice, piano and flute to pupils ranging from 6 to 19. Kay completed her Masters Degree in teaching and learning in 2014 at Manchester Metropolitan University, England and continues to strive for excellence in her teaching.
Kay is passionate about music, performing and teaching others to enjoy and excel and continues to improve her own instrumental skill. Kay's interests include orchestral and ensemble string playing, musical theatre and choral work. Kay emigrated to the United States this year and looks forward to working with committed, dedicated and talented students on their own musical journey.
1. She has visited 11 countries.
2. She's a huge fan of Downton Abbey.
3. She tripped while wearing heels in front of the entire school.